Indian students are unique when it comes to their language education since the majority of them are bilingual. It means that there is a higher probability of the cases their mother tongue is a different language other than English. If this is not a task in itself, they also are well versed if not fluent in their national language which is Hindi.
These students, as kids or as young adults, have unique learning needs when they are learning English as the second language (or even third or fourth for some). Thus, merely enrolling in courses tagged as one of the best online English speaking courses is not enough says, Ms Goel.
This blog by Ms Sonu Goel, Founder and Director of Café Converse, Delhi's top Online Institute for Learning English shares things to look out for an online English-speaking course in India, before making a final decision to join any institute.
Firstly, let us know why do Indian students need additional language coaching? Most schools in India are teaching in English as the primary medium or language of education. Although smaller towns and cities too have English schools, in spite of this, we still do face an equal number of student inquiries from all over India.
If the students have been schooled in English for more than 10 years, what is the reason they need additional English language education? Let's infer this peculiarity.
English schooling is merely a ruse- Most of the educational institutions though termed "English medium" the quality of language education is quite poor. In most cases, students are not trained in basic English early on and thus suffer a lot in their conversational skills.
Lack of the basic framework of language education- Most schools do not quite stress on language basics like English grammar, vocabulary building, or word pronunciations. By the time students reach 6th or in 7th grades, it becomes very hard to hone their language skills because newer subjects and topics are added to their curriculum.
Routine style learning affects spoken English skills- In the majority of Indian schools thanks to the sheer competition, students are burdened with assignments. Rather than spoken English fluency, the stress is more on writing skills. In most cases, students just learn by repetition. Moreover, teachers normally are unable to provide individual attention since most classes have at least 30 students and more.
Spoken English practice is less- English medium education was only for the elite some during the 1980s. Many Convent schools across India which made English language education was slightly more accessible but the quality of English language education was not always up to the mark. Even in the last decade, specifically, in smaller towns and cities, spoken English fluency among school-going kids are not entirely a priority.
Mother tongue lends a sticky vernacular accent- It has been seen that most Indians speak different versions of English- it could be Hindi-influenced English- Hinglish, and so on. Indians speak English having heavy accents, accents because of their mother tongue's influence. Though the accents are great but despite their rich cultural heritage, several students look for accent "polishing" English courses.
All these reasons are good enough for the demand for English fluency, spoken as well as written. Thus, it is important to check out for certain things primarily if one is looking for an online English-Speaking course.
Things you should look out for an Online English-Speaking course in India
Here are some of the factors one needs to check.
Set your learning needs- What is it that you want to learn, written, spoken English fluency? Or accent softening skills? Once you identify what aspect of English language education needs focus you will know which course fits the bill for your unique needs.
Look out for courses that have flexible curriculums- Most English courses provide flexible learning hours. But very few such as Café Converse also provides options to design your learning curriculum.
Go for private English lessons- Go for personalized attention over group tuitions. Private or personalized English lessons with an online English tutor at institutes like Café Converse will facilitate a quicker pace of learning and are not that expensive in your pocket.
Be practical and do not fall for scams- Be wise, you know English to an extent and thus you need to understand that you cannot master English in a few days or 2 weeks and similar dubious claims. Do not fall for these tricks, understand that quality education takes time.
No need to be ashamed of your accent- Never be afraid of how many times ever it takes, but accents are unique and a part of your cultural identity. Do not enrol in online English courses to just "polish" off your vernacular pronunciations. If anything, your accent is your own, and be proud that you are bilingual (or multilingual as is the case with the majority of the Indians!)
Thus, if you see, most Indians from English medium school struggle with their basics such as English grammar, vocabulary, and in several cases- its spoken English fluency. It means, though they know how to speak in English, they are not confident because they are not fluent speakers. This needs a different method to language coaching, what we at Café Converse term as "conversational form" of spoken English fluency training.
At Café Converse, it is believed that fluency in English is only possible with daily practice. The English tutors at Café Converse are well versed in training several Indian students and guiding them towards spoken English fluency.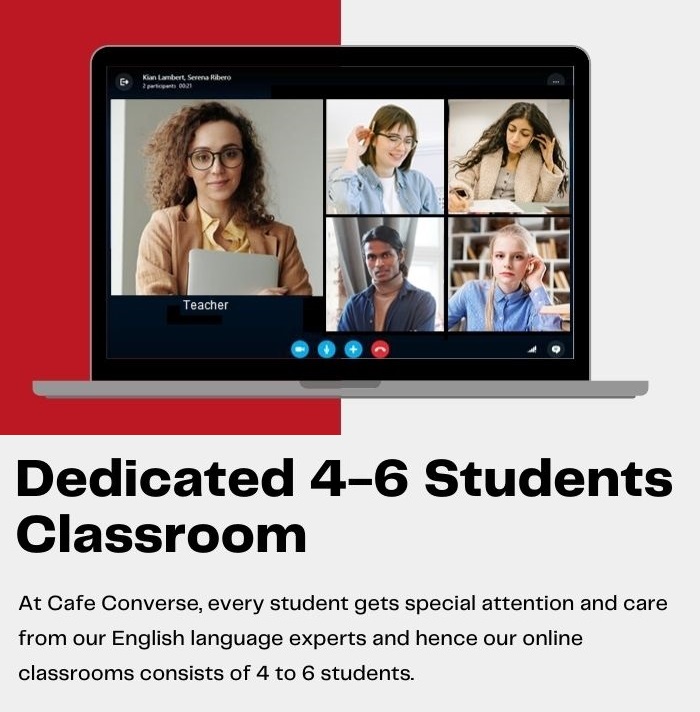 Ms Sonu Goel is a professionally acclaimed certified ESL trainer from British Council having 15 years of strong background for teaching English language in both online and physical classes. She is dedicated to the teaching of English in an interactive and practical way, whereby learners feel enriched with knowledge and experience the language hands-on. She uses creative ideas and aids to let the learning happen as organically and efficiently as possible. Ms Goel has travelled various European countries and experienced an array of cultures and linguistic skills for the English language.