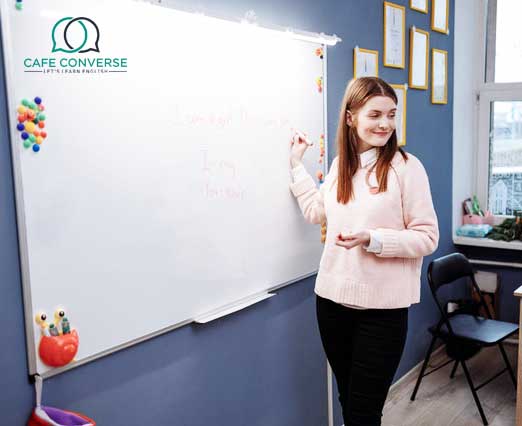 Do you find it hard to learn fluent English, even after several months of studying? If your answer is yes then this write-up is for you, you will find some tips depending upon your situation.
As per one study, an average native English speaker knows nearly 4 to 5 thousand words when he is in school. On the other side, a university student knows about 15 to 20 thousand words.
While a non-native English speaker knows just 2 to 5 thousand words even post spending months studying. For a person to understand a sentence, he must be able to understand around 95% of the words in that specific sentence. So where does the issue lie?
Reasons you are not fluent despite learning
Ms Sonu Goel, says there are majorly two reasons why one is not fluent in English.
When one begins learning a new language, they seem to concentrate mainly on advancing their vocabulary or grammar. Native speakers pay attention to simple grammar. They also have a bigger vocabulary. This assists them to communicate faster and well. In an attempt to communicate well, you required both grammar as well as vocabulary.
Grammar and vocabulary are the major aspects of learning fluent English.
While on the other side several non-native speakers learn using the old school methods. The target should be to develop all the four aspects, which are listening, reading, writing, speaking. But, they only concentrated on enhancing grammar.
Ms Sonu Goel, Founder and Director of Cafe Converse, Delhi's top institute for learning spoken English shares simple tips that will help you speak English fluently.
Learn English vocabulary
To master fluent English, one ought to have a good vocabulary. There are several ways to learn if search online. Keep altering your studying pattern weekly
Go the school kid's way, they simply do plenty of reading and speaking activities. This method is called a natural method
A person simply requires to see a word 8 to 12 words for it to become a part of the memory. Besides new words, one is even required to focus on their various uses. For example, the word "look" has several meanings according to the sentence it is used in. Look simply means to see but on the other hand "look confused" suggests, not having any idea about something.
One should learn 1 to 3 words daily. Learning vocabulary does not mean to be simply you sitting with a dictionary. There are several ways like watching a movie or reading magazines etc.
Learn just useful or common words.
The next point to remember is when learning new words: learn just essential and common words. Avert from learning words that are not useful and you cannot use them in your everyday conversations. Reading a book is a top way to improve one's knowledge liked with vocabulary. For example, if a person reads a storybook, then he perhaps comes across around 80% of words that are useful. Probably the other 20% cannot be used on daily basis. Spoken English is a lot different from written English. It is wise if one studies spoken content, as that will going to help you.
Start speaking
The main task to do if one wishes to learn fluent English is to speak. It is essential that one begins speaking and works on his accent and pronunciation. Each time you learn a new word, apply it in your conversation. Almost everybody will give you the same advice. Practice speaking as much as you can. Nothing else is as effective as this.
If you live in a place where speaking English is not common, then it could be a little difficult to practice speaking. Here are certain tips:
Make a friend who is a native English speaker. Online apps are a good way too.
Make the ideal use of your phone. You can ask your browser-based assistant questions in English and even have little conversations.
Look for a person who is learning. You can practice with them and have a healthy competition with that person.
Speak to yourself. You can stand in front of a mirror and talk to yourself. This would make you familiar with your English accent.
Invest in English Classes
If you are serious about their goal and aspire to learn fluent English, then invest in English classes. At Cafe Converse learning and talking with English tutors will drastically improve your English.
You would be able to ask queries daily to your trainer. You can also discuss new words and learn about their utilization in your everyday conversations. Instructors will provide you feedback on your English skills and will give you added guidance whenever needed.
Make English part of your daily life
If you aspire to learn English fluency, it is essential that you have enough exposure to English you should surround yourself with English. There is no better way than making English your regular habit. Do something in English daily. Make small changes that will assist you in the long run.
Text someone in English
Listen to English music or videos
Read English blogs and newspaper
This method is used to get accustomed to the sound of a new language and is known as language immersion.
Work on your accent
It is important that you focus on pronunciation and accent. If the opposite person finds your accent hard to understand, they might misjudge your English level and knowledge. For example, if an individual is giving an interview and he does not have an accent that is understood by the other person then he may lose that chance of working in that organization or getting a job. The employers might not give him a job even though his qualification perfectly suits the job.
It is normal to feel uncomfortable
Everyone learning a new language have to counters their fears. It is totally normal to feel stressed and nervous while talking to someone in English. Speaking in a new language might feel like using an inkless pen. You might not have words come out of your mouth or perhaps even subconsciously begin speaking in your native language. You might not look as intelligent as you really are.
One needs to understand and make peace with the reality that they will not understand all the things and speak perfect and fluent English, and it is completely fine
One can only move ahead in their language journey when they can keep aside their fear of being embarrassed and speak English in every circumstance possible. Free yourself to commit errors It is better to commit errors and learn than simply pretend to know everything.
Do not focus just on grammar
Native English speakers do not follow the rules majority of the time. This does not mean that says that you should totally neglect grammar.
Grammar is useful to study and to form your language base. Grammar should never be your topmost priority, rather learning to speak English should be your priority. Most of the time people will get what you mean to say even if your grammar is not right Your focus should be to be understandable. Grammar rules will become eventually partly. Focus on speaking and boost up your confidence.
Ms Sonu Goel is a professionally acclaimed certified ESL trainer from British Council having 15 years of strong background for teaching English language in both online and physical classes. She is dedicated to the teaching of English in an interactive and practical way, whereby learners feel enriched with knowledge and experience the language hands-on. She uses creative ideas and aids to let the learning happen as organically and efficiently as possible. Ms Goel has travelled various European countries and experienced an array of cultures and linguistic skills for the English language.